On April 20, Dot Porter hosted Coffee With A Codex from the Reading Room of the University of Glasgow Libraries Special Collections Department. She featured MS Hunter 231, a heavily illuminated collection of devotional and philosophical works. Julie Gardham wrote a thorough blog post about this manuscript on the University of Glasgow Libraries Special Collections Department Blog in 2008. We copy the first paragraphs here, then provide a link on to the full post.

The volume is a personal compilation of works intended for private use. Consisting of some 485 pages on vellum, included are a series of devotional texts, treatises on morals and the liberal arts (drawing primarily upon Seneca), some scientific writings of Aristotle, and excerpts from philosophical treatises.
The first 98 pages are dedicated to religious devotional works. The works of Saint Anselm, Hugh of Saint Victor, Saint Augustine, Saint Bernard and Saint Benedict are represented, as well as several meditations, hymns and prayers to Mary of unknown authorship. Many of the items are illustrated by illuminated historiated initials (an historiated initial is when a letter incorporates an identifiable scene or figures, often linked to the accompanying text). Two magnificent full page miniatures are also found in this section.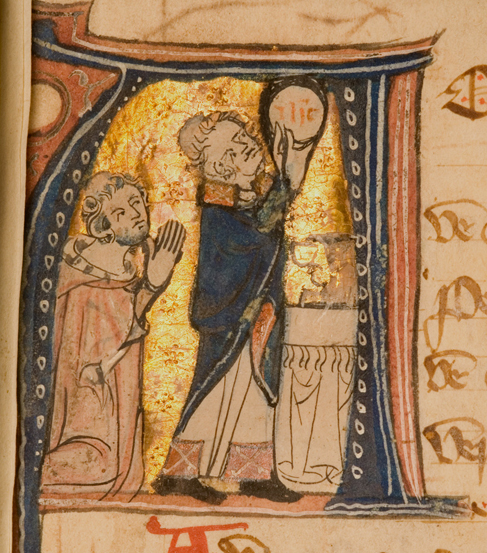 Continue reading the blog post on the University of Glasgow website.
Watch the recording of the Coffee With A Codex presentation on YouTube.
We host Coffee With A Codex every Wednesday at 12pm ET / 5pm GMT on Zoom. For a schedule three weeks ahead, visit our main page here.